'Acceptance' is beyond just a word. It inclines with one's self-worth, identity and feelings and LGBTQI community (Lesbian, Gay, Bisexual, Transgender, Queer, and Intersex) on that part has suffered hugely under societal pressure, a struggle that cannot be defined in a few words.
Although Indian law has proved to be LGBT+ inclusive, individuals who fall outside the gender binary have remained to face social criticism and constraints when it comes to their sexual orientation and gender identity. 
As our goal focusses on eradicating such social difficulties, we believe there is a tremendous amount of awareness that needs to be raised amidst people with regard to LGBT+ individuals. To discuss the issues related to this cause, we co-organized #ProjectPrideInside on 17th December 2019 along with Intel India, PeriFerry – Social Enterprise for transgender employment and entrepreneurship and The Humsafar Trust – LGBTQ community-based organization.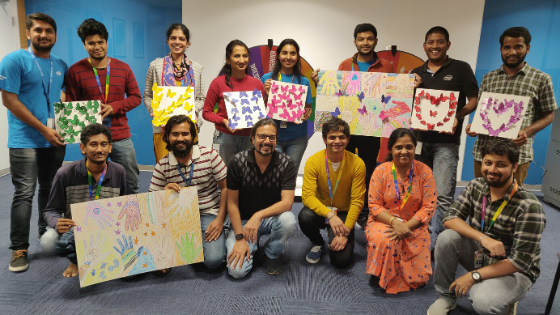 Session Insights
The program commenced with a knowledge-intensive session, defining the LGBT+ community and understanding their aspects and rights, presented by IGLOBE (Intel Gay, Lesbian, Bisexual, or Transgender Employees) India. 
Some serious modules of this discussion were how our society remains to be negligent towards this community, suppressing them within the boundaries of homes and schools. Out of the many insightful gains, 'Ally' came into the picture highlighting how those who don't belong to the LGBT+ community should take a stand for their rights.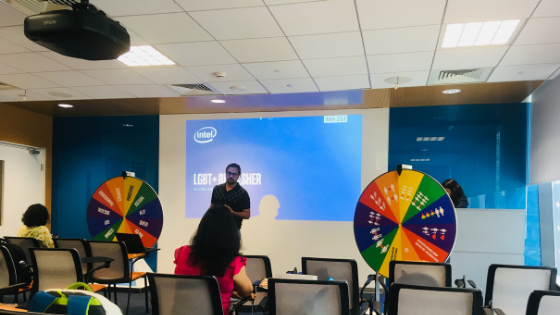 The interaction grew more intriguing with the next session led by representatives from The Humsafar Trust and PeriFerry where they talked about the real difficulties that LGBT people come across when they decide to come out of the closet and accept themselves. The 3 speakers from PeriFerry were courageous enough to share their stories of struggles while going through the transitions. Despite all the discriminations, they are proud of who they are today and believe that they are capable of adding the same value that any other straight person can add to society.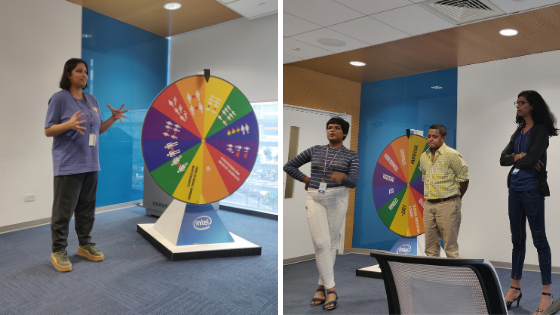 One of the trans speakers quoted a very powerful sentence stating "Yes we are marginalized if you think being straight is right."
'Fly with Pride' and 'Imprints of Pride'
We are always on the run to deliver the maximum impact through exciting sessions that can eventually give out the right message and our two activities just helped us achieve that goal.
While the volunteers were busy embracing the 'Picasso' inside them who otherwise is lost in the chaos of work-life, we could witness extreme happiness within them, trying to portray the best canvas of butterflies. This session was followed by 'Imprints of Pride' where they sketched their palm imprints in bright and bold colors. Be it the perfect combination of colors or mere scribbles, the fact that they were into this together, supporting the LGBT+ people was worth it.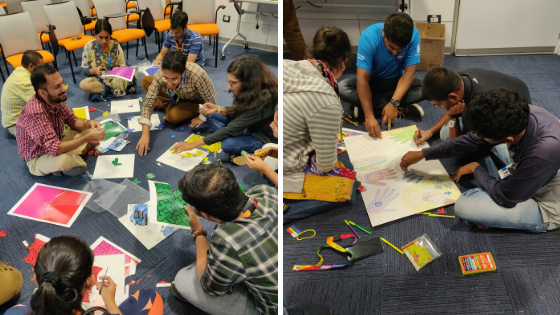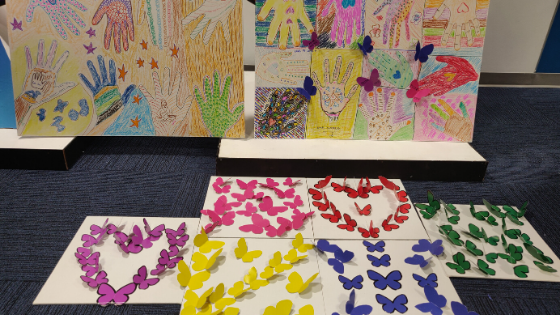 Key Takeaways
Change begins at home! And schools to broaden the picture. By the virtue of our vision, we trust that each of us needs to stop looking down upon LGBTQI people and accept them for their true selves. Parents need to stop hesitating from accepting their child's identity. There is also a huge gap in terms of gender equality that can be filled by restructuring the education format at schools including parent and teacher counseling.
Sensitization programs by NGOs, social communities and companies can help break the LGBT+ myths. Why don't we stop seeing them as a different community and start seeing them, humans? We're sure that this kind of self-awareness will definitely fuel the change reaction that we have always held on to and shall continue to make a positive influence.
Comments
comments