Converge – DIY Sustainably was an event organized by Rang De, a social initiative supported by Tata Trusts that champions the mission to make microcredit affordable to people from rural communities. Hosted at Innov8 – The Coworking Space in Bangalore, the event centered around Sustainable Living, brought together people who have done amazing work for various social and environmental causes and gave them a platform to share their experiences and inspire those who attended the event. LetsEndorse was happy to be a part of it and here, we summarize what went on there for you!
"You want the easiest way to stop wastage? Cook your own food!" said Vishalakshi Padmanabhan, Founder, Buffalo Back Collective, as she spoke of how people living in the fast lane in cities have become dependent on restaurants and food stores for their meals.  The amount of food wasted regularly in restaurants and hotels is enough to feed a small community of people with no access to two square meals a day.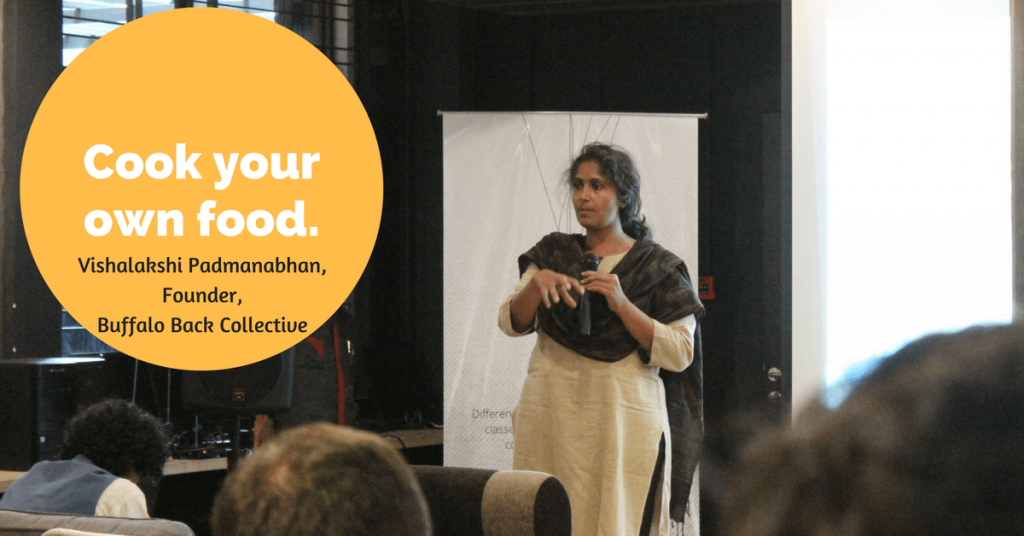 With supermarkets and stores banning the use of plastic carry-bags, there has been a definite decrease in the usage of polythene, noted Vishalakshi. Yet cereals, rice and other necessary household food items continue to be stored and sold solely in plastic packets, and there is no attempt made to understand how these products will react with the plastic. Vishalakshi believes that the maximum adulteration occurs within spices, a staple in Indian food culture, putting the consumer at risk of diseases like diarrhoea, cancer, cirrhosis and heart ailments.
Agriculture, previously a sustainable activity for a farmer, has become a highly commercial one that has led to a reduction in the safety of food. Although commercial farming accounts only for about 15% of the total agricultural activity in the country, its effects are far-reaching.
Most farmers that she works with practise sustenance farming and their lives have been comfortable. But, for commercial farmers, the entire process has become a profit-maximising one. As a result, they often grow cash crops, or crops that are in demand and have buyers in the commercial market, which often leads to a vicious cycle of pesticides, chemicals and misuse of the land and its nutrients, leaving the soil barren and dry.
With the next speaker, the focus shifted to another apt and important issue – the lack of playgrounds for children from economically weaker backgrounds. Anthill Creations, a non-profit organization formed by five IIT-Kharagpur Architecture graduates, provides and builds playgrounds for schools through a novel architectural solution. While others use plastic and metal to construct slides and see-saws, Anthill does it solely with tyres and other discarded materials.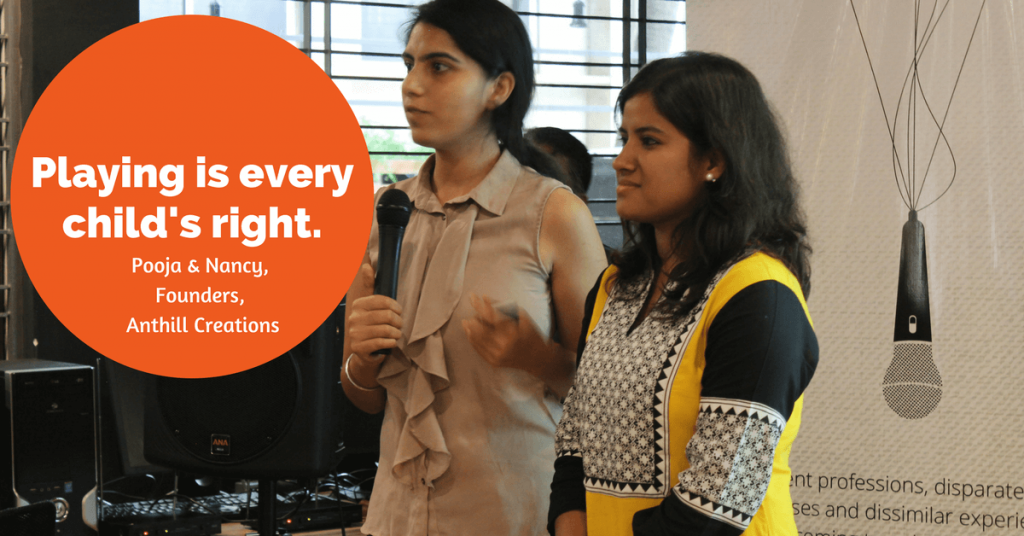 Pooja Rai and Nancy Charaya, co-founders, Anthill Creations, told the audience that what started as a pet project in their final year of college became their calling, , with both of them giving up their corporate jobs and making Anthill their topmost priority.
"They learn academics in the classes, but there is so much they learn while playing – teamwork, helping others, flexibility and movement. Playing is every child's right!" said Pooja Rai, as she shared her experiences of seeing children play with their creations.
They buy tyres, which are cheap and plentiful in availability and use them to build swings, see-saws, jungle gyms and other such things to create a playground for these children. India contributes to 7% of the tyres which are disposed yearly and Anthill Creations hopes to use these to create a better world for children from impoverished communities.
Tyres can be constructively used but a lot of waste that is degradable is not properly separated. Mansoor Gous, a dry waste collection centre (DWCC) operator and a former waste-picker, bemoaned the fact that many families and households are not aware of the difference between different types of waste. He might have only studied only till 5th standard but, managing the DWCC at Ward 168 at Jayanagar, he has started a non-profit group called Donate Your Waste that works in four areas around Bangalore where his team carries out door-to-door collection of waste.
Working with the Bruhat Bengaluru Mahanagara Palike (BBMP), Donate Your Waste has been able to teach households how to separate waste so that it becomes easy for the BBMP to dispose and recycle waste. Around 800 houses have been brought under this group's work, and although Mansoor and those under him have had to go through troubled times, they continue to have the vigour and zeal and plan on bringing more areas around Bangalore within their reach.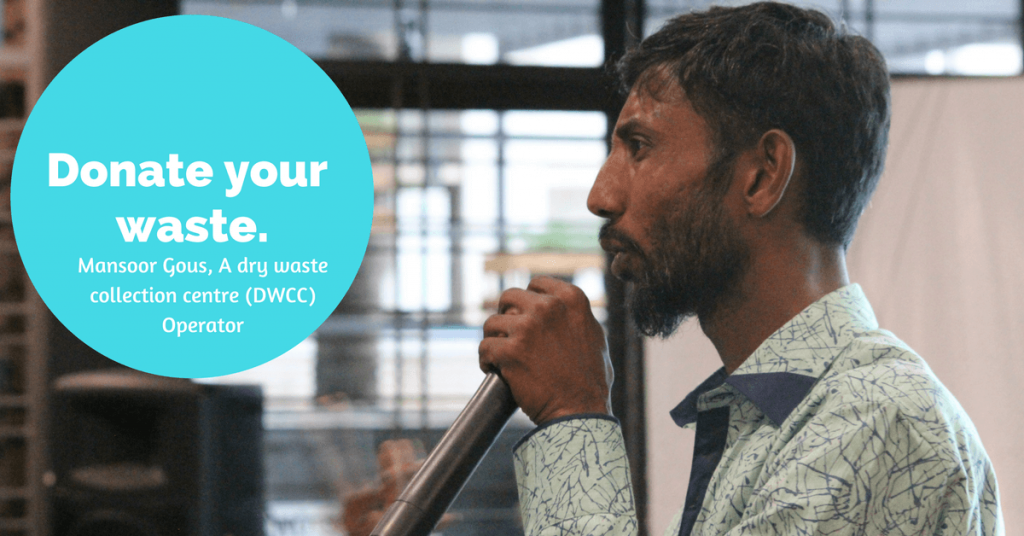 Mansoor is also the living example of entrepreneurship and enterprise among the underserved that Rang De hopes to support. Over 55,000 loans have been made by individuals on the Rang De platform helping individuals get an alternative from moneylenders when they cannot turn to banks for credit.
The final speaker, Vishwanath S, clearly had the most experience in environmental conservation as he has been focused on water issues for over two decades. In a city with no real source of water to call its own, except for the water transported from Cauvery, it has to rely on rain. Bangalore receives plentiful rain, around 860 mm on average yearly, and Vishwanath's organization, Biome Environmental Solutions, has been offering architectural and rainwater harvesting designs to promote better and more sustainable architecture.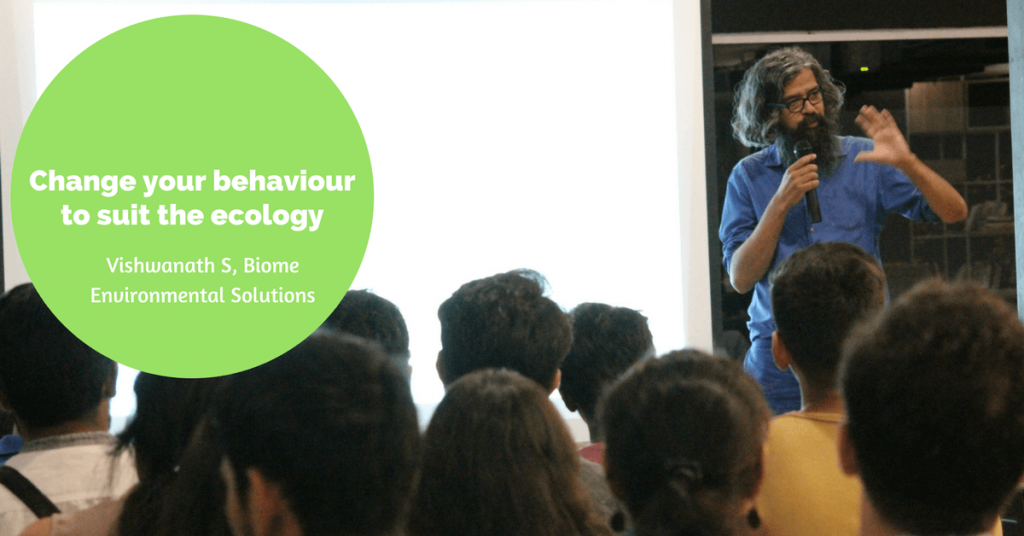 Most significantly, however, he talked of how the perception of our relationship with nature needed to change – "it is not nature which shall change, but you shall change your behaviour to suit the ecology".
"The well is an excellent communicator. During the summer, the water level drops so you have to change your water consumption accordingly. With the tap, we have lost the connection with nature." Vishwanath brought with him two traditional well-diggers and stated that Bangalore needs to build a lot more wells in the near future.
All these men and women are passionate about what they do and each person is making concerted efforts to bring about positive change in society. In an event honouring their efforts and the achievements that they have added to their names, Rang De brought together some amazing people who shared their amazing stories with those in need of inspiration and we were proud to take part.
Comments
comments